Simpatico Weimaraners
Est. 1989
Elegance | Strength | Balance
Our journey in Weimaraners started unassumingly in 1989 with the acquisition of TWO female littermates at the ripe old age of 6 weeks- eek! Needless to say, neither we nor the breeder had much on the ball relative to today's standards of breeding, buying or raising purebred dogs. But what we didn't have in knowledge or experience, we made up for with love and commitment (plus more than a few vet bills) and our girls lived long, happy, contented lives as our careers moved us about the country.
In 1992, we decided we wanted to add a third Weimaraner to our small pack, but this time it would be a little different. First, learning from experience, we wanted a reputable breeder who could teach and help us learn about the breed and second, we wanted to try showing dogs. Our first and only call was to Tom Wilson and Smokey City Weimaraners. For our part, selecting Tom and Smokey City was simple. Researching show Weimaraners, going to shows, seeing Smokey City dogs and talking to their owners made our decision simple. Tom on the other hand took a real leap of faith with us. After several interviews to develop an understanding of our circumstances, experience and objectives, Tom agreed to place a puppy with us. And to his credit, this was not just any puppy. The dam was Ch. Smokey City Heat Wave, JH BROM BIS & National Specialty winner and the sire was Ch. Smokey City Moonstone JH NRD BROM. As he has with many others, Tom believed in us and was willing to make a bet on the future. He backed up that belief with a puppy "Avery" out of a pedigree as strong as any he ever put together at that time.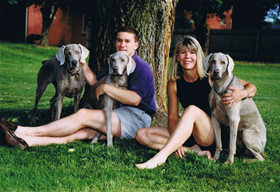 Even as novice handlers, we finished Avery easily. Beautiful, both stacked and moving, she was easy for judges to find in spite of our novice status as handlers. As outstanding as Avery was physically, she had little interest in being a top flight show dog, so shortly after finishing her championship she retired. At the age of 9 Avery took another spin around the ring winning the Veterans class at the Weimaraner Club of America National Specialty! While Avery's show career was brief, we had formed a permanent bond with Tom.
Since that simple beginning, we've had dozens of Smokey City dogs come into our lives. They've come for training camp, for growing up, for evaluation, to show or finish showing, to retire, or just to hang out for a while. We were honored by Tom's offer to co-own and campaign Am./Can.Ch. Smokycity Hail Mary, #1 Weimaraner in 2003 and 2004, #6 Sporting dog and winner of the Weimaraner Club of America National Specialty in 2004. Along with her handler, Bob Double, "Mary" won 6 all-breed Best in Shows, the Canadian Weimaraner Club National Specialty and holds the record for the most specialty wins in a single year.
Most recently, we've had the privilege to campaign Ch. Smokycity Devil May Care "Dharma" to the #2 position in Weimaraners and #14 Sporting Dog in the country for 2006. With 4 All Breed Best in Shows, 2 Sporting Dog Best in Shows, 62 Group One placements and multiple Specialty wins, Dharma has taken her place among the top performers in Smokey City's long, successful history in the show ring. An accomplishment made even more impressive by Dharma being exclusively owner handled by Jennifer throughout her career.
Our purpose at Simpatico is to continue enhancing the Weimaraner breed to the best of our ability and through selective breeding, we hope to provide others with an opportunity to have the same wonderful experience we've had with these unique dogs.
2019
Since this was written, so much has changed.
We all suffered the loss of Tom Wilson, gone much too soon. I often hear his voice in my head, wondering if he would think we have done a good job with his pedigrees. I can say it was a difficult time for so many reasons, but like anything, time helps soothe the wound. I have become deeply involved in the Weimaraner Club of America, having served as the Judges Education Chair, The Breeders Education Chair, assisted in the development and served on the WCA Lifetime Achievement Award Committee.
We have endured unimaginable losses and experienced unbelievable highs. We have a puppy family that reaches across the USA and Canada. Our personal dogs have achieved more than we could have ever dreamed of, Multiple All Breed Best In Shows, Best in Futurity and Maturity, and Best in Specialty Show wins. We never lose sight that awards and recognition are amazing, but these dogs are OUR pets, the same as every puppy that leaves us for their forever home. Every one of them a "heart dog" for us.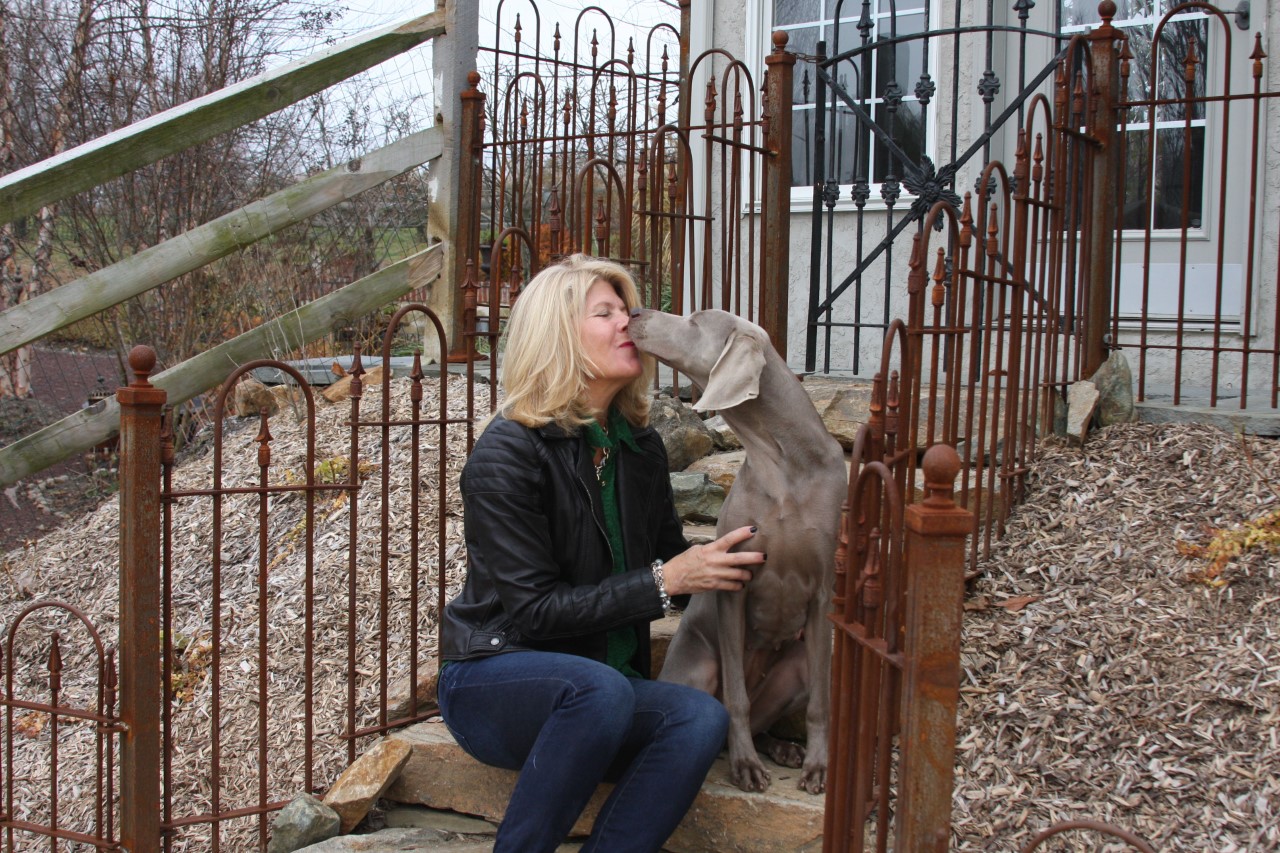 For over thirty years, our philosophy at Simpatico has centered on preserving the health, temperament, and beauty of the Weimaraner breed. Through purposeful, selective, and dedicated breeding, we have developed Weimaraners that have enriched the lives of their families beyond measure.
Every breeding at Simpatico is mindfully planned with the express intent of keeping one or more puppies to add to our own family. Through this endeavor, beautiful healthy puppies are available to forever loving homes. Responsibly bred Weimaraners offer the surest path to finding a well adjusted healthy puppy to share a lifetime with.
We proudly share a bond with each family for the life of their puppy. We feel extremely privileged to have families that are now enjoying their second, third or fourth Simpatico puppy. Should circumstances in their forever home change for any reason, we are a lifetime home for all of our puppies. We do not allow our puppies to go to homes for breeding purposes.
Ultimately, we believe in quality not quantity. We only plan a litter to continue the beauty, purpose, and unique qualities of this special breed. Our passion and commitment to these values are evident on these pages. We invite you to share our philosophy and our life with Weimaraners.